Mobile Apps
Empowering every brand, everywhere, at the touch of a button.
Features
Brand engagement in the palm of their hands.
Brand presence
Get in front of your customers any time of the day. Put your brand in their line of sight with a unique mobile app. Engage with your customers and let them interact with your brand offering an experience like no other.
UX design
Compatible across all mobile platforms, our apps are designed with user experience and convenience at the forefront of mind, delivering a positive and rewarding interaction between your users and your brand.
Track behaviour
Track user behaviour using app analytics, one of the most comprehensive types of tracking technology allows. Gain crucial data to understanding your customers, in turn delighting them based on their specific needs.
Monetisation
There are many different ways to monetise your app through app sales. Allow your customers to checkout faster and more securely than ever before using apps of the highest performance standard and quality.
Where creativity and technical expertise meet
Developing exceptional experiences, collaborating with you along the way.
Unforgettable experiences with high quality performance.
Our award-winning Android and iOS apps are built from scratch, using the latest technologies and innovations. Delight your users with anything from delicious, easy to make recipes or even shopping lists for ultimate convenience.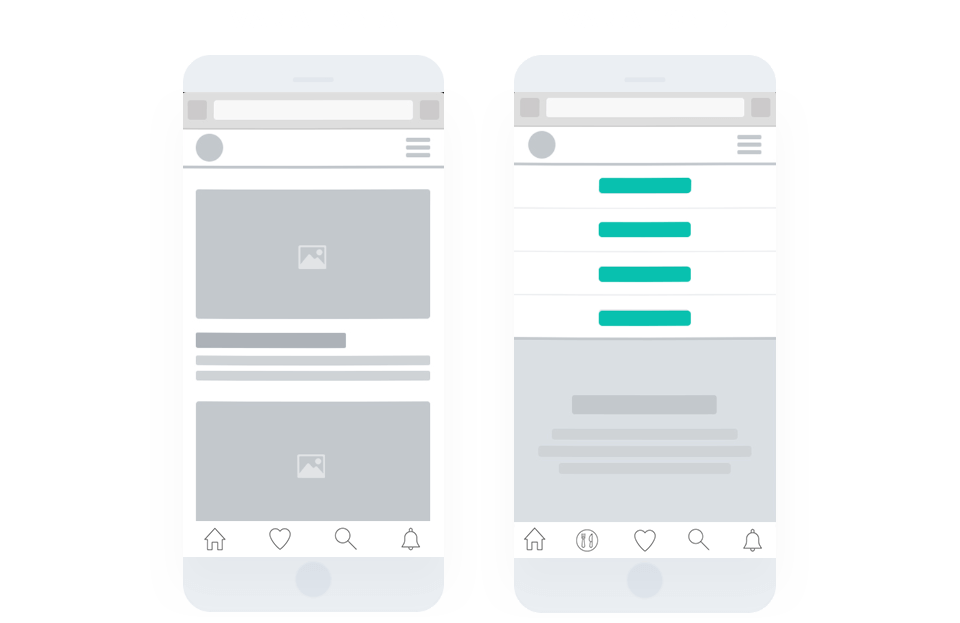 Find the winning version of your mobile app.
Test different versions of your mobile app, delivering the experiment to a small portion of users first. Experimentation software allows you to test in real time, with no app store releases.
Find out how
Case Studies
Take a look at some of our mobile apps.
A beautifully functional, highly customised eCommerce store which caters for the traffic volume experienced on the website daily. It features a clear menu structure that is easy to navigate and functions with ease on mobile. We have had a long lasting relationship with The Healthy Chef since 2014, building their highly successful app which has over 170 recipes.
Read the Case Study
Designed for usability, The Healthy Mummy received a digital revitalisation and an eCommerce consolidation. Since 2015, we have been continuously improving and enhancing user satisfaction and performance of the unified websites.
Read the Case Study
An award-winning mobile app for the local youth community. An initiative by Northern Beaches Council aimed at keeping younger people connected. The app is on-trend, appealing to the younger generation and features an integration with Facebook, enabling users to see who is attending different events.
Read the Case Study
A bustling shopping centre in need of a digital scorecard for a fun mini golf activation during the holiday season. It features a clean layout and easy navigation to guide users every step of the way, adding a touch of convenience.
Read the Case Study
Expertise
See what else we can do.