If you're anything like us, we love using Google Search Console. Recently, the beta version of the new Google Search Console was released. It comes with a few new features we are already finding beneficial.
Extended search data
The current Search Analytics tool offers great insights, however you are only able to gain data from the last 90 days, forcing you to export and save this data externally. Using the beta version of the new Google Search Console allows for 16 months of search data to be reviewed! This is a pretty exciting move forward for website owners.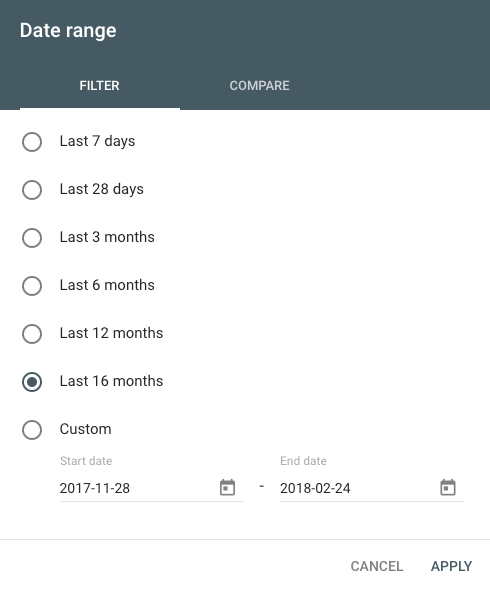 You can find this option under the Performance tab. Performance still allows you to access the same basic functions you did before, such as segmenting by countries, devices, pages and queries.
Index coverage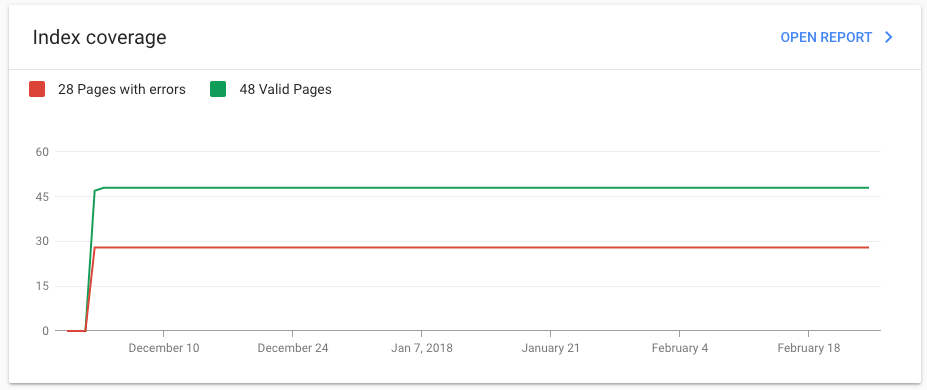 This feature is an important one for website owners who may not be aware of any errors with their URLs.
An example of an error could be when website pages have been set to "no index" by mistake. This is an error we see quite often.
A new message is generated by Search Console informing the website owner of these errors. Where this feature is really helpful, is that it presents you with the exact URLs and ways to fix each one. Once the fixes have been made, you can even validate the fix. Google will then recrawl these pages as a priority.
You can monitor the process of the validation, with Search Console telling you if any of your changes have failed.

Internal report sharing
The new Google Search Console gives you the ability to be able to share reports within your team. This will definitely be helpful to website owners when certain errors that have been detected need to be fixed by different people.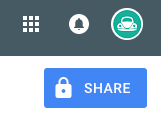 Clicking the share button in the top right hand corner of a report will present the below option. Make sure link sharing is enabled and the link to share will appear.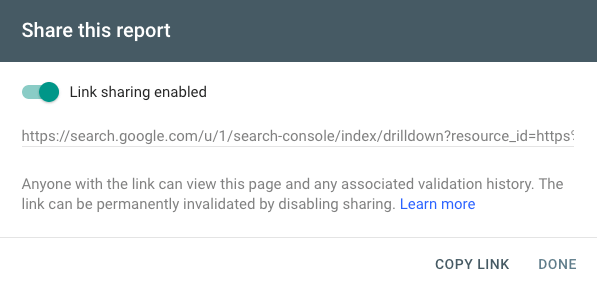 AMP errors and warnings
If you've created accelerated mobile pages and they aren't showing up in the mobile search results, you may have issues with them so determining what these issues are is crucial.
The new Google Search Console will present you with these errors, and the reason for these errors.

What makes this new feature so great is that once you validate a fix Google gives you an immediate response. The Official Google Webmasters Blog states, "If your pages don't pass this test we provide you with an immediate notification, otherwise we go ahead and reprocess the rest of the affected pages".
You will also get a full list of the URLs that were fixed, as well as a full list of URLs that have been indexed and are valid.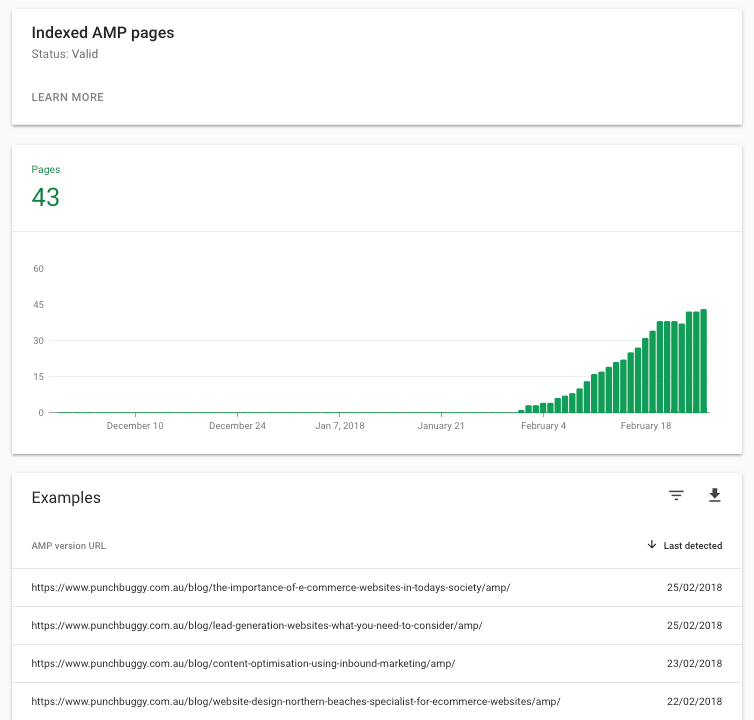 Recrawl now
This feature alone is sure to get users excited about the new Google Search Console. "Recrawl now" allows a website to be recrawled in what seems almost instantly! Don't believe us? Try it for yourself by clicking "Recrawl now" on the left side panel.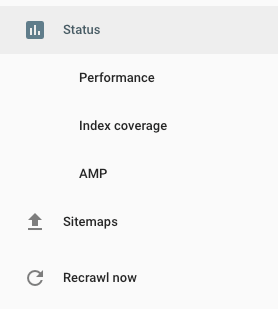 Features not available to Australia in the new Google Search Console
As Google Job Postings hasn't been rolled out in Australia, the new features benefiting this tool are not relevant to us, yet. Once we do have access to Job Postings, we will be able to see which postings have errors, and will be able to prioritise and fix them using the Search Console.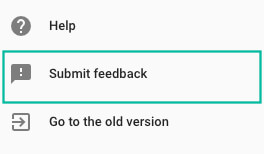 If you're not a fan of the new Search Console, you can switch back at any time. However, why not try submitting feedback to Google so they can continue to improve and enhance the Search Console's features, making it a better service for all website owners.