The Facebook pixel is an amazing tool if you know how to use it, and more importantly, use it correctly. You can track all sorts of data allowing you to refine your advertising strategy and reach the right people.
But what exactly is the Pixel? And how does it work?
What is the Facebook pixel?
The Facebook pixel is a tool used to track certain actions people are taking on your website based on your advertising efforts. Essentially allowing you to measure your advertising results and success. Think of it as an analytics tool.
How to check if you already have the pixel installed
You may already have the Facebook pixel installed on your website. A great way to check is to download the Facebook Pixel Helper. You will need to be using the Chrome web browser to install and use the extension. Once installed, an icon will appear next to your address bar.
When visiting your website, click on the Facebook Pixel Helper icon to see if you have the pixel installed.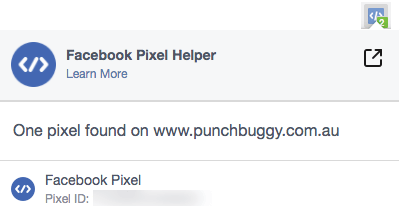 How to use the Facebook pixel
To use the Facebook pixel you will need to add a snippet of code to the header of your website. This allows for certains actions taken on your website to be tracked. You can create your Facebook pixel by navigating to the Ads Manager and clicking on the Pixel tab. You will need to create a name for your Pixel and then accept the terms. Once created, you will need to highlight the code and copy it. This is the code that gets pasted into your website's HTML.
Once this has been done, you can set up certain actions or events to be tracked. For example, if someone adds an item to their cart on your website, or if someone performs a search on your website. You may also want to track certain leads, or if someone has added a product to their wishlist.
You also have the ability to set up custom conversions using the Facebook pixel. For example, a contact form enquiry.
All of these events give you the ability to set up custom audiences which can then be used to retarget these visitors on Facebook. This allows you to reach the right people for more targeted advertising.
If someone has added an item to their shopping cart, the Facebook pixel will trigger this action, add this user to your Facebook audience, and then retarget them with a particular ad. This is called Facebook retargeting.
Helpful tip!
It's important to remember that if you boost a Facebook post, the pixel can't track conversions. You will need to go into your Ads Manager and select the Pixel tracking option.
The Facebook pixel can be a great analytics tool, giving you insights into what your users are doing and how they doing it. It's definitely something to think about before you start running your next campaigns.