Each day, more and more people use their mobile devices to carry out everyday tasks. Whether it be searching for information, shopping online or checking the news, these users want their pages to load fast! In fact, Google tells us 53% of people will leave a website if it takes longer than 3 seconds to load. That's a pretty high number making it clear that mobile speed optimisation should be your prime focus this year.
What is mobile speed optimisation?
Mobile speed optimisation is the enhancements and changes you make to your website to ensure pages load quickly on a mobile device. The changes can be to your website design, structure and on-page elements such as images and text.
Optimising your mobile website speed
With more than half of website traffic occurring on a mobile device, a fast loading website is essential.
Did you know, 70% of cellular network connections globally occur on 3G or slower speeds? According to Google, a 9 second load time on a 3G mobile connection could result in a 29% estimated visitor loss!! That's a pretty serious statistic not to be ignored.
The following changes can be made to your website to help reduce your page loading times.
Compress your images.
Thankfully this is a fix you can do yourself. Following our image SEO guidelines will help you ensure you are uploading images optimised for speed.
Leverage browser caching.
When you visit a website page, the website browser needs to download files such as HTML, JavaScript, CSS and images. Browser caching stores these files and information on your computer so that when you visit the page next time, it will load a lot faster.
Minify JavaScript, HTML and CSS.
JavaScript, HTML and CSS are all elements developers use to create your website. These are able to be minified (meaning removing all unnecessary characters in the websites source code) using developer tools such as HTML Minifier.
A website redesign.
In some cases, the website design may be too outdated or "bulky" for any of the above changes to make an impact. In this case, a website redesign may be needed.
Is AMP the answer?
Google are pushing their Accelerated Mobile Pages (AMP) platform which focuses on making the web faster and more accessible for users. AMP pages are website pages that load near instantly on mobile devices. Designed for high performance, they take out most of the design elements of a page restricting you to 50kb of inline CSS per page, meaning more detailed designs would be hard to achieve. You also must use AMP's JavaScript library, so anything custom is harder to accomplish. The question is whether we are ready for this technology yet. Do we sacrifice on user experience for speed?
Is there another way?
Whilst AMP might be one solution to this problem, there are many other ways to improve the speed of your website. Firstly however, it's important to identify why your website might be slow in the first place. Is it the frontend code that's rendered into web browsers? Is it the content management systems or eCommerce system that powers your site? Could it even be the hosting?
The best action to take from here would be to test your website out for yourself.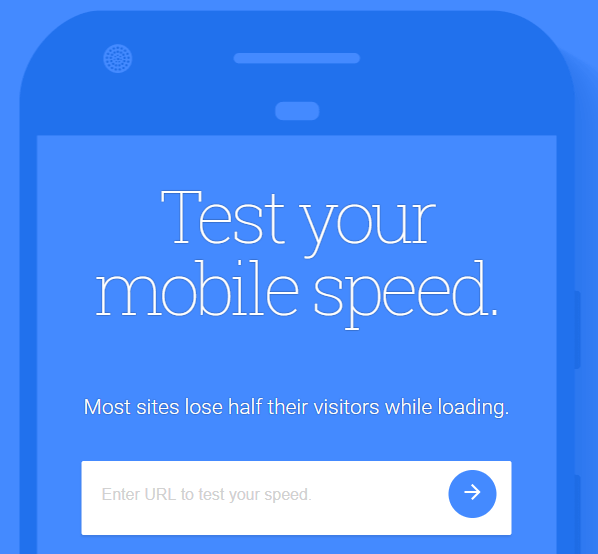 Have a look at all of the elements on the pages and ask yourself if you really need them. Perform the simple actions everyday users would take on your website and look at how long the page is taking to load. If it's taking longer than 9 seconds, you should consider taking action today.
For the curious or more experienced developers Google's test my site tools is powered by WebPagetest which you can check your site with directly for more comprehensive and advanced details. Some other website page speed tools we like to use are Pingdom and GTmetrix.