Wouldn't it be great to track the journey potential customers and your ideal personas are taking on your website? To see what they were clicking on before making a purchase and the types of content they were reading whilst making decisions. The good news is, with HubSpot you can. It's one of our favourite features of the platform. It's called the Activity Feed.
Visualising touch points
Hubspot's activity feed gives you the ability to be able to visualise the touch points taken by your potential customers, tracking the full journey along the way. You can see what website pages they viewed, what emails they opened and when and whether they spoke to a salesperson and ultimately purchased.
Below are some examples taken from Google Analytics of conversion paths your leads might take before contacting you. As you can see, the path can be very basic or more complex. HubSpot's activity feed simplifies this.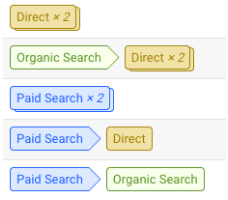 Basic conversion paths

More complex conversion paths
The buyer's journey
Take a look at the example buyers journey below thinking about what actions would be insightful to help determine whether or not you have a warm lead.
User visits your website from an organic search.

They return 3 days later and visit 2 other pages.

They return again 4 days later and visit the same 2 pages and 1 additional page.

They submit the contact form on your contact page.

The user is now considered a warm lead.

You start your sales process.
So, what can you track in the activity feed?
The activity feed lets you track:
An opened email
If your potential lead hasn't opened your email, you'd want to know. Following up a contact who is a cold lead can be a big time waster to you company, especially when you could be following up with a more qualified lead.
A link clicked in an email
If you've sent out an email with a link in it, and the contact has clicked it, this is going to show the person is interested and may be a more qualified lead.
A page visit
Visiting a certain page can help determine what the contact is interested in. It can also help you visualise what stage in the buyer's journey they may be at.
A form submission
When a contact submits a form, you want to know so you can follow up with them. If this is the second or third form they have filled out to download a specific offer or info pack, this information is valuable as it tells us this is a potential sales ready lead.
The activity feed can also be used to keep track of your own daily tasks such as booking in your meetings, logging calls and jotting down notes to name a few, all helping to keep you more organised.
How the activity feed helps your sales and marketing team
Being able to track which content is viewed by your leads and ideal personas can be very beneficial to both your marketing and sales teams. It can help you identify which marketing efforts are bringing in the more qualified leads, telling you which content is really valuable and offering those valuable insights to determine which content is nurturing your leads further down the sales funnel.
The below image shows an example of how the activity can look. You can see the contact accessed the website via an organic search. You can see what pages they are looking at and at what times and dates. You can see the user has returned to the website on multiple occasions. On the third occasion the user had submitted a contact form, with the prospect now being changed to a "lead". This knowledge is crucial to your sales team as it helps them identify that this person is a warm lead.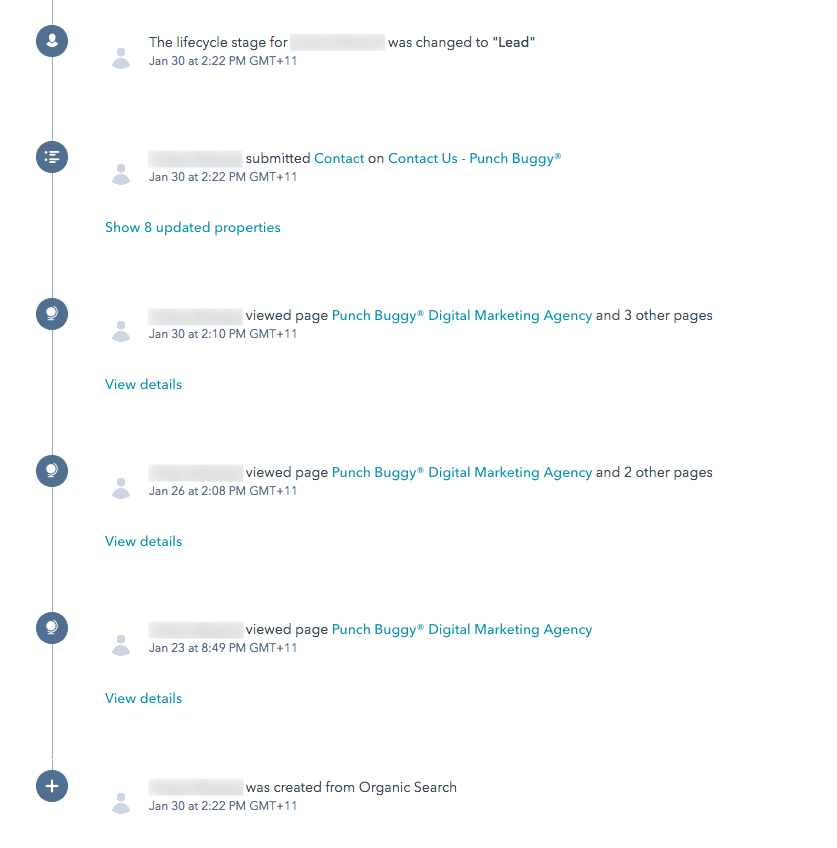 With 81% of shoppers conducting online research before buying, you can see the true value of utilising the tools and software available to help you build better performance in your business and marketing efforts. These tools really allow for businesses to operate smarter, giving you the insight to see all channels a customer is looking at during the buyer's journey.
Will you be better armed for your next sales enquiry?