If you're an app owner or developer, brace yourself because Apple have released a new way to get your app right in front of your target audience and ramp up your app sales!
Technology giant Apple, have recently announced the Australian launch of Search Ads in the App Store which we're super excited about. With a wide-range of channels already available for pay-per-click advertising, it was only a matter of time until Apple introduced a similar feature to app developers.
How App Store Search Ads work
Apple's Search Ads will work in a similar way to Google AdWords with the App Store Search Ads using a cost-per-tap model. Ultimately, businesses will be able to promote their apps in the App Store for iPad and iPhone. By using this service, you have the ability to show your app in the top of the search results relevant to your app.
You set your budget by applying a maximum daily cap, ensuring you control what you spend. You also set the maximum amount you would like to pay each time a user taps on your ad. These budgets are then used to bid on the Search Ad placement.
The ads will be created using images, description and metadata from your app's listing. Your ad will then be matched to relevant searches in the App Store. Relevance can also be applied to your ads by adding keywords to your Search Ad and Apple's search term popularity index will indicate the most appropriate keywords for your ad. All of these factors will help you in promoting your ad.
Take a look at the Search Ad below found by Punch Buggy when searching for "health" apps.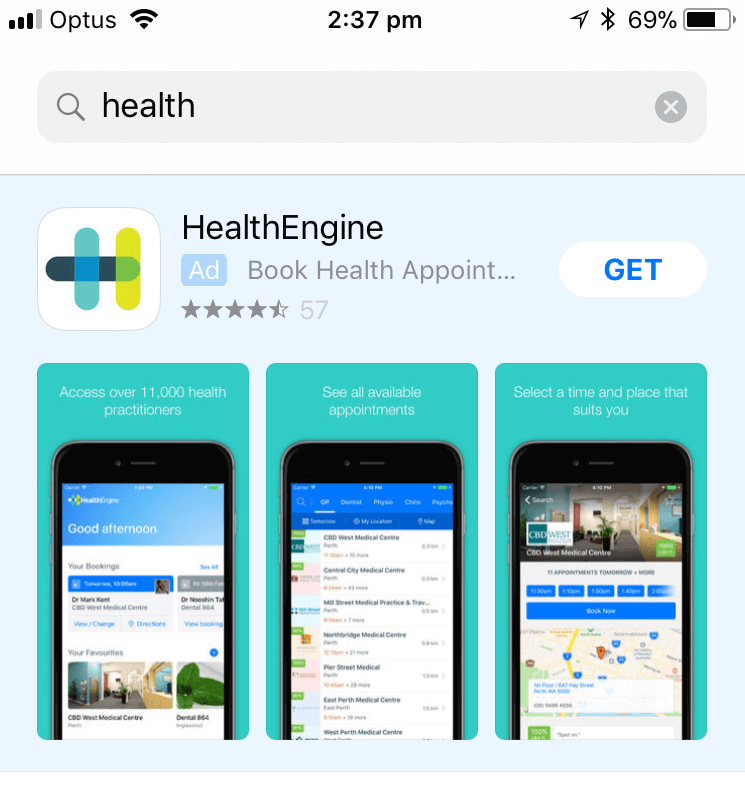 As you can see the Search Ad appears in the top of the search results with a light blue background around it, as well as the blue "Ad" tag under the app title.
Benefits and features
Choose your audience
Search Ads give you the ability to refine your audience by location, age and gender. Ads can be targeted to be shown to everyone, however you can also choose if you want your ads to be shown to your current customers or customers who own other apps you have developed. The Search Ads settings will automatically be set to only show your ads to potential new customers.
Set when you want your ads to be shown
Why show your ads when your target demographic is most like sleeping? Use time and date settings to show you ads at certain times of the day or even on specific days.

Choose which device you want your ads to be shown on
Set your ads to be shown on only one device. Or show them on both iPhone and iPad. You decide! It's completely up to you when using Search Ads.
Track your campaign performance
The Search Ads reporting systems provides you data about your campaign's performance. By using their Attribution API you can view insights such as search term, age, location, device and much more. Reporting is key to successful ads and successful marketing campaigns.
Get your Search Ads into gear today
If you have an app you would like to market and want to take advantage of the cost-per-tap model the App Store Search Ads offer, contact Punch Buggy today on 02 8911 3849 or [email protected]. Do you have an app you would like to put into development? We can do that too!